Special Needs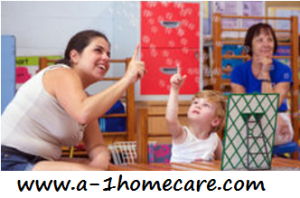 A-1 Home Care Agency's in-home health care services aren't just limited to the elderly, but they extend out to the special needs population as well.
Some common conditions that we at A-1 Home Care Agency can help with include: Down's Syndrome, Autism, anxiety and mood disorders, behavioral problems, neurological disorders, and more.
Because of the delicate nature of those living with special needs, trained caregivers must be able to handle the rigors of these individuals. At A-1 Home Care Agency, our caregivers know what it takes to provide compassionate care to those in need.
A-1 Home Care Agency's in-home care services aren't limited to the elderly. We can also helpo the special needs and disabled population as well.
Some common conditions that we can help with include: Down's Syndrome, ADD/ADHD, Autism Spectrum Disorders (ASD), Cerebral Palsy, Epilepsy / Seizure Disorders, Developmental Delays, Hearing or Visual Impairments, Cystic Fibrosis, Anxiety and Mood Disorders, Neurological Disorders and more.
We are an approved Vendor for the Regional Center of Orange County and the Frank D. Lanterman Regional Center in Pasadena. Our Caregivers, Home Health Aides, Home Makers and Personal Care Assistants are trained and experienced with helping families with caring for someone with Special Needs.
A-1 Home Care Agency provides Respite Care for family caregivers, giving you time off to rest. Family caregivers are under constant stress and having some time to yourself will help keep you in good health. Knowing your loved one, adult or child, is in professional and caring hands means you can recharge without worry.
There are plenty of special needs adults that reside in homes. Even though they can essentially live independently, they could enjoy a higher quality of life having a professional caregiver by their side tending to their needs and providing companionship. This extra care also provides peace of mind to their loving family who may have to work or tend to other responsibilities.
Our affordable and professional caregivers give individuals with Special Needs the opportunity to receive quality at-home care, without the overwhelming financial obligation. The quality of one-on-one personal care provided by our experienced caregiver is greater than that received at a facility since it is based on the specific needs and preferred schedule of the family.
Caregiver Requirements:
For the safety and well-being of your loved one and family all Care Providers from A-1 Home Care Agency are carefully screened. They must:
Be State Registered
Have Minimum 2 Years' Experience
Pass LiveScan Background Check
No Accidents or Violations on DMV Driving Record Check
Pass Sex Offender Database Check
Tuberculosis Test Negative
Have Current CPR and 1st Aid Certification
Completed State Required Training
Have Malpractice / Liability Insurance
Interview with A-1 Home Care Agency Staff
For more information call:
Los Angeles 562-929-8400
Orange County 949-650-3800
San Gabriel Valley 626-219-6440