Short Term Care in Pasadena
Temporary or Short-Term In-Home Care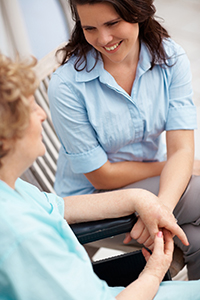 If you or someone you know is recovering from recent surgery, hospital stay or illness, Pasadena In-Home Care offers short-term caregivers to assist in the comfort of your own home. With the assistance of a temporary caregiver, seniors are given the option to have a shorter stay in a hospital or rehabilitation clinic. Studies have proven that people recovering in the comfort of their own homes, surrounded by a familiar environment and family, have less stress and recover much more quickly.
Respite Care for Family Care Providers
Being the primary caregiver for an elderly or senior family member can be very stressful. Often, the relative providing care works full time and has other family obligations. The extra strain and stress on both the family members and patient can lead to prolonged recovery or further injury. Pasadena In Home Care's respite services can offer family caregivers a daily break in caring for their loved one, helping to relieve stress and strain. The placement of a caregiver in one's home can also offer the patient a companion to talk to when the situation becomes overwhelming or they are frustrated by their inability to carry out their day completely independently.
Short-Term or Temporary Recovery Care
Pasadena In-Home Care offers various short-term at-home care services that can help ease seniors back into their daily lives as they transition through rehabilitation. Home Helpers offer non-medical services to temporarily assist elderly individuals with daily responsibilities such as meal preparation, personal hygiene, housekeeping and running errands.
The duties and services offered by a Home Helper are as follows:
Grocery shopping
Meal preparation
Running errands
Laundry and making beds
General housework and clean-up
Caring for pets
Dusting, vacuuming, and other cleaning
Live-In Home Care