Lou Gehrig's Care in Pasadena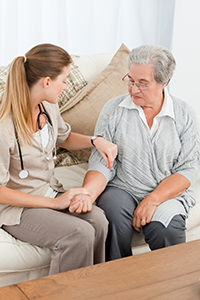 Lou Gehrig's Disease/ALS Care
Elderly and Senior individuals who have Lou Gehrig's Disease, also known as Amyotrophic Lateral Sclerosis (ALS) suffer from progressing symptoms of muscle weakness, muscle cramps, muscle stiffness, slurred speech, swallowing, speaking, and breathing difficulties, incontinence, and eventually paralysis in late stages. The disease is a neurodegenerative disorder that destroys the motor neurons responsible for relaying signals from your brain, to spine, to muscles.
ALS progression makes all areas of daily living difficult. People with Lou Gehrig's Disease may require assistance getting out of bed or a chair, walking, dressing, showering, maintaining personal hygiene, eating, cooking, reaching for items in cabinets and many other daily tasks.
Compassionate Care for Elders with Lou Gehrig's Disease
A-1 Home Care Agency provides compassionate and experienced in-home care for elderly and senior individuals with Lou Gehrig's Disease no matter how severe symptoms have progressed.
Our ALS caregivers are available for 24-Hour Live-In Care or Hourly Care and can assist with all activities of daily living, such as:
Personal Hygiene Assistance
Incontinence Care / Toiletry Assistance
Medication Reminders
Mobility Assistance
Range of Motion
Errand Assistance
Companionship
Meal Preparation
Light Housecleaning and Laundry
Assistance Recovering from Injuries, Accidents Or Falls
Bathing and Tuck-In Services
Depression
Pain Management
We carefully screen all Nurse Aides, Caregivers, Home Health Aides and Personal Care Assistants and review their documentation and references before placing them with families.
A-1 Home Care Agency is a State Licensed, Bonded, and Insured non-medical homecare agency that has been a care provider in Orange County, Los Angeles County and San Gabriel Valley since 1991. We are approved by many Long Term Care Insurance Companies including MetLife Insurance, John Hancock, Bankers' Life & Casualty, CALPERS, Penn Treaty and the Veteran Administration. For more information, click here:
There is also a program from the VA called Aid and Attendance Pension Benefit Program for War Time Veterans. If approved, this program helps pay for Veteran's home care needs. To see if your loved one qualifies, click here and fill out our form:
Please CALL today for more information on how A-1 Home Care Agency can help you!
Los Angeles (562) 929-8400
Orange County (949) 650-3800
San Gabriel Valley (626) 219-6440