Lou Gehrig's Care in Pasadena
Compassionate and Experienced In-Home Caregivers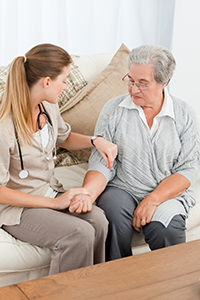 When an Elderly or Senior loved one has Lou Gehrig's Disease, performing activities of daily living can become incredibly difficult as symptoms become increasingly worse over time.  Lou Gehrig's Disease, also known as Amyotrophic Lateral Sclerosis (ALS) is a degenerative disorder of upper and lower motor neurons that are responsible for sending signals from your brain, to spinal cord, to muscles throughout your body.  When these neurons degenerate, muscles weaken and the individual ultimately loses the ability to control their voluntary mobility.
At A-1 Home Care, we provide dedicated and experienced caregivers for Lou Gehrig's Disease Care in Pasadena, CA on a 24 hour Live-In Care or Hourly Care basis.  Daily living can be increasingly burdensome and dangerous for Elderly and Seniors with ALS living on their own.  Caregiver tasks such as meal preparation, personal hygiene management, bathing, toileting, and assistance with daily errands can enable your loved one to retain their independence longer in the comfort of their home.
All of our compassionate Lou Gehrig's Disease caregivers, nurse aides, companions, and home helpers must have at least 2 years of prior at home caregiving experience, verifiable professional references, a National Background Check/DMV Check, Tuberculosis testing, Malpractice/Liability insurance, First Aid/CPR training, and a personal interview with our office staff.
Trustworthy and Reputable Home Care Agency
A-1 Home Care is a Licensed Bonded and Insured non-medical homecare agency that has been a care provider in Pasadena, CA since 1991 with an A+ Rating from the Better Business Bureau, Shield Accreditation, and memberships with the National Care Planning Council and Chamber of Commerce of Torrance, Santa Fe Springs, Pasadena, and Newport Beach.
We serve the LA communities of Pasadena, Burbank, Hollywood, Beverly Hills, Brentwood, Westwood, Santa Monica, Torrance, Culver City, Malibu, Sierra Madre, Altadena, Arcadia, San Marino, Glendora, Covina, Monrovia, Glendale, San Dimas, Downey, Whittier, Van Nuys, and others in Los Angeles County.
If your loved one has long term insurance, we accept Penn Treaty, CALPERS, MetLife Insurance, Veteran Administration, John Hancock, and Bankers' Life & Casualty.
To interview and hire a compassionate caregiver today, CALL us at 626-287-0250 for a FREE in-home assessment.