In Home Care Scenarios in Pasadena
Long Distance Family Members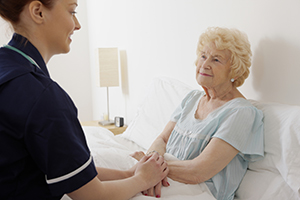 Mrs. Brown is suffering from severe arthritis, diabetes and high blood pressure. She started having eyesight problems and is noticing a decline in her health. She loves living at home, working in her garden and caring for her dog, Ben. She has a daughter who lives out of state and a son who lives 100 miles away. She has no other relatives living nearby. Mrs. Brown realizes she needs help during the daytime due to her limited mobility. She has no intentions of moving to a retirement home or assisted living facility.
Luckily for her, Help is never too far away! The staff at A-1 Home Care Agency can provide Mrs. Brown with quality and affordable home care services. Service ranges from a few hours to 24 hours a day, 7 days a week. A free home assessment is provided to determine the needs of Mrs. Brown with Caregivers and Certified Home Health Aides or Nurse Aides on standby and readily available for her to interview. At A-1 Domestic, your loved ones are cared for. We listen to your needs and make sure that a perfect match is made.
Our specialties are Senior Services, Elder Care, Dementia Care, Alzheimer Care, Diabetic Care, Companion Services, Parkinson Care, Cancer Care, Live-In Care, Companion Services, Arthritis Care, Post Stroke Care, Hospital Sitters, Incontinence Care, Personal Care Services, Long Term Care, Short-Term Care, Hourly Care, Hospice Care, Special Needs Care, Home Helper Services, Child Care, Bipolar Care, Postpartum Care, Respite Care and After Surgery Care.
Personalized In Home Care for Senior
Mrs. Burton is a retired musician. Her love for music, arts and entertainment has never stopped her from doing the things she loves to do. Slowly, Mrs. Burton has been suffering from Parkinson's Disease and is getting worse day by day. Her son John has been caring for her for the last 2 years. John works full time and has a family of his own. Being the only child, John has no other family members to turn to for assistance. However, his overwhelming responsibilities towards his family and his mom are causing him unwanted stress and a decline in his health. He has made a decision to place his mom in a facility where he feels he will be able to spend more time with his family and attend to his personal needs.
At A-1 Home Care Agency we are dedicated to providing caring, devoted and compassionate Home Attendants, Home Helpers and Homemakers who provide personalized care for your loved ones. Your parents' needs are a top priority. The peace, relaxation and tranquility your parents feel at home is incomparable to the care found anywhere else. Being cared for at home will help them feel better and will bring more happiness to their remaining years. We want you and your loved ones to have the most wonderful experiences with our caregivers.