Diabetic Care in Pasadena, San Marino, La Canada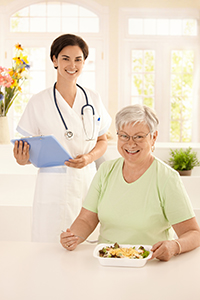 A-1 Home Care provides expert Diabetic In Home Care to Children, Seniors and the Elderly. If you or someone you love has Diabetes or Juvenile Diabetes and lives in Pasadena, South Pasadena, La Canada, Alhambra, San Marino, Monterey Park, Altadena, San Gabriel, Eagle Rock or other Los Angeles County city, we have a Caregiver, Home Helper or Nurse Aide for you. Our agency can arrange in home care services for senior and elder diabetics on an hourly or live in home care basis and can provide an at home Nanny experienced in Juvenile Diabetes. We offer short term and ongoing in home care services 24 hours a day, 365 days a year at an affordable rate. Services include medication supervision, insulin administration, housecleaning, cooking, personal hygiene, shopping, laundry and transportation to medical appointments.
Call 626-287-0250 today for more information.
Conditions Caused by Diabetes in Seniors and Elderly
It's not unusual for a senior or elderly person to be unaware they are diabetic. The most common symptoms of Diabetes are excessive thirst, frequent urination, fatigue, irritability, mood swings and blurred vision, which can be caused by many other things. Diabetes mellitus affects insulin secretion and can lead to cardiovascular disease, kidney failure, cataracts, glaucoma and bladder infections if left untreated. A-1 Home Care Agency has professional Care Givers experienced with caring for elder or senior diabetic patients with type 1 or 2 diabetes and children with Juvenile Diabetes. Our Home Health Aides, Companions and Care Assistants can help control your blood sugar levels by providing nutritious meals and moderate exercise.
For in home care services, call 626-287-0250!