Diabetic Care in Pasadena, San Marino, La Canada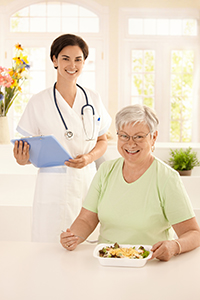 Diabetes is a manageable metabolic disease that causes the individual to have high blood sugar because of an inability to produce insulin or cells that are insulin resistant.
Whether your loved one has Type 1 or Type 2 Diabetes, it's important to be keep the disease under control to slow the progression and prevent serious complications such as cardiovascular disease, kidney failure, stroke, retinopathy, glaucoma and neuropathy.
If your Elderly or Senior loved one has Diabetes, it can be difficult to manage lifestyle factors and maintain control over blood pressure and blood sugar levels.
Having a professional caregiver experienced with Diabetic Care can tremendously improve your loved one's health.
24-Hour Live-In and Hourly Live-Out Caregiver Solutions for Diabetic Patients
A-1 Home Care Agency provides Diabetic Care for Elderly and Senior individuals on a 24-Hour Live-In Care or Hourly Care basis. We have Nurse Aides, Caregivers, Personal Care Assistants, Home Health Aides and Companions available to provide personalized schedules based on your family's needs.
Our Diabetic caregivers emphasize healthy nutrition, daily exercise, keeping track of blood sugar levels on a day-to-day basis before and after meals and assistance with various activities of daily living. Click here for Caregiver Requirements.
Call us at (562) 929-8400, (949) 650-3800 or (626) 219-6440 to today for help tomorrow!