Brain Injury Care in Pasadena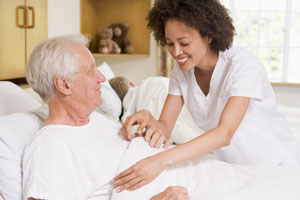 A-1 Home Care offers home care for people with brain injury or tumor in Pasadena, CA. Call 626-287-0250.
If someone you love has suffered a brain injury caused by trauma sustained in a fall, car accident, sports injury, accident at work or tumors due to brain cancer, A-1 Home Care can provide in home care services. If the damage is mild, resulting in headache, dizziness, blurred vision, depression, anxiety, fatigue, nausea, light sensitivity or changes in sleep patterns, our skilled Caregiver, Home Helpers, Companions, Personal Care Assistants, Hospice Caregivers or Nurse Aides can help during their recovery. More severe trauma can cause profound confusion, slurred speech, agitation, changes in behavior, convulsions, seizures, memory loss, chronic headaches and loss of physical coordination making it unsafe to leave your beloved relative unattended. A-1 Home Care offers 24 hour live in care and hourly care to residents of Pasadena, South Pasadena, San Marino, Altadena, Sierra Madre and Arcadia at affordable rates, providing the peace of mind you need.
Our non-medical homecare agency has helped ill, injured, handicapped, disabled, senior and elderly people in Los Angeles County and Orange County recover from accidents, diseases, illnesses, injuries and trauma. We are Licensed, Bonded and Insured and hold the Gilbert Guide Seal of Approval. A-1 Home Care is a proud member of the Pasadena Chamber of Commerce, National Care Planning Council and holds an A+ rating from the Better Business Bureau.
Call 626-287-0250 for brain injury or tumor at home care!