Alzheimer's in Pasadena
Specialized Treatment That You Can Afford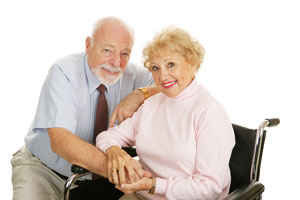 Watching a beloved elderly parent or grandparent suffer with Alzheimer's disease or Dementia is difficult. Fortunately, you can hire a Caregiver, Nurse Aide, Senior Companion, Home Health Aide or Personal Care Assistant from A-1 Home Care Agency.
Since 1991, our agency has provided personalized home care services on an Hourly Care or 24-Hour Live-In Basis. We are approved by Long Term Care Insurance Companies including GenWorth, CALPERS, MetLife, Penn Treaty, Veteran Administration, John Hancock, Bankers' Life & Casualty and many others.
Why Choose A-1 Home Care Agency:
State Licensed, Bonded and Insured Non-Medical Home Care Agency
Approved Vendor by Long-Term Care Insurance Companies
Contracted Provider for Long Term Care Insurance Guild
Approved Vendor for Veterans Aid and Attendance Pension Benefit Program
Approved Vendor for Regional Center of Orange County
Approved Vendor for Frank D. Lanterman Regional Center
Partner of Citrus Valley Hospital for Medi-Care Bundle Payment Program
Member of Alzheimer's Association
Approved Vendor for Partners in Care Foundation – MSSP
Vendor for Family Caregiver Resource Center in OC / St. Jude's Hospital – MSSP
Member of American Board of Home Care
National Association for Home Care & Hospice (NAHC)
Home Care Association of America (HCAOA)
Member of American Care Management Association
Certified National Readmission Prevention Team
California Department of Social Services
Home Care Services Bureau
Having a professional and experienced caregiver provides peace of mind for your entire family. All Care Providers are knowledgeable about Dementia and Alzheimer's Disease. Our Caregivers know how to be a soothing and helpful presence for your loved one, keeping them safe and happy in their own home.
Services Provided by A-1 Home Care Agency:
Personal Hygiene and Bathing Assistance
Incontinence Care / Toiletry Assistance
Medication Reminders
Mobility Assistance
Range of Motion
Errand Assistance
Companionship
Meal Preparation
Light Housecleaning and Laundry
Bathing and Tuck-In Services
Dementia Care
Alzheimer's Disease
Safety Supervision
Parkinson's Disease
Bi-Polar / Manic Depressive Disorder
Night Fears
Depression
Arthritis / Pain Management
After Surgery Care
After Stroke Care
Dialysis Care
Hospice Care
Our experienced Care Providers can also work on improving your loved one's memory by playing "brain games", fun activities that help with cognitive function.
Is it Dementia or Alzheimer's?
As we age, some memory loss and confusion now and again is normal. We all have days where we lose the car keys or forget an appointment. What we need to know are the symptoms of something more serious than forgetfulness cause by everyday stress. If you suspect your loved one may be developing Alzheimer's Disease or Dementia, it's best to speak with an expert physician.
Neither illness occurs overnight and there's a difference between Dementia and Alzheimer's Disease.
The following are some signs of dementia as opposed to Alzheimer's:
Dementia 
Short term memory loss
Confusion and difficulty concentrating
Slight changes in personality and behavior
Inability to think problems through, needs step-by-step instructions
Forgetting where something is or when an event took place
Alzheimer's
Forgetting names of people or things
Difficulty completing familiar tasks
Severe changes in personality, hygiene, mood and behavior
Problems with abstract thinking, difficulty understanding time and place
Forgetting the item exists or that the event ever happened
Some types of Dementia are treatable and can be caused by certain medical conditions such as:
Reactions to medications or nutritional deficiencies
Vision or hearing problems
Infections
Brain tumors
Hardening of the arteries
Severe stress or painful emotions
Feel free to contact us for more information!
Los Angeles (562) 929-8400
Orange County (949) 650-3800
San Gabriel Valley (626) 219-6440